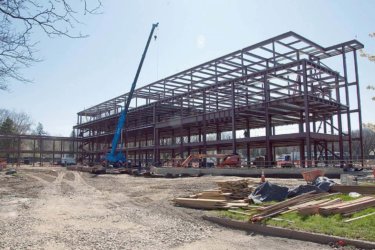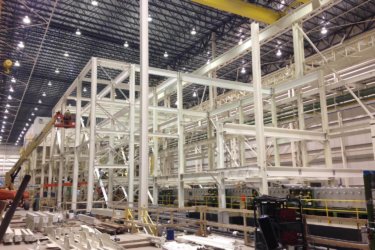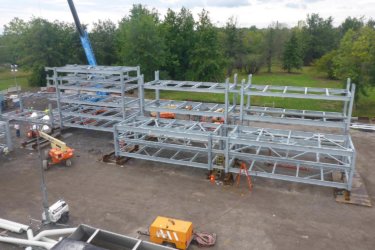 Hohl Industrial Services provides fabricated structural steel for a wide variety of construction projects, including industrial, public, and private owners. We provide structural steel for the region's leading general contractors, developers, construction managers, large industrial plants, and as a prime contractor. Segments within these areas include industrial plant new builds and expansion, warehouses, educational institutions, hospitals, airports, DOT bridges, and many others. Fabrication projects have been performed for locations throughout the Great Lakes area and beyond.
Our modern shop features a CNC Peddinghaus beam drilling line, complemented by multiple saws, burning table, shear and forming equipment serviced by six overhead cranes. Drilling, forming, and burning are CNC controlled which supports our production accuracy and operational efficiency. Welding equipment covers multiple processes including SAW, FCAW, GMAW, and GTAW. Welding procedures are developed as necessary for any project to the most stringent requirements.
Our shop is operated under a rigorous AISC quality control program with trained inspection personnel. Our internal inspectors maintain CWI certifications as well as Penetrant Testing (PT), Magnetic Particle (MT) Ultrasonic Testing (UT), Radiograph Interpreter, and NACE with DOT endorsement. Our AISC certification covers multiple endorsements including simple and complex bridges with fracture critical material. Our strength centers around complex projects with tight deadlines.
Seasoned and qualified project teams are assigned to each project with a single point of contact established to address project requirements and needs. As schedules are critical to each project, we perform in-house detailing with the latest software complemented with a robust MRP system. We control the full process from bid to erection as required by the project owner. We are results driven and confident in our ability and engage our customers with transparency and commitment.